The first of the bluebells are out. The way they catch the light – it's like the first hint of summer, true summer.
The winter clematis thinks so – he's gone from old boy to old man, strands of his fluffy beard drifting all over the garden.
The ivy is oh-so-April green:
There is no colour more vivacious.
And the buddleia is thrusting. (Peter would approve.)
The teasel, like magic, is back!
"Ta-da!"
Ted planted some new plants. This, believe it or not, will eventually be a shrubbery – if the plants take:
Hopefully they'll suppress the Evil Blue Weeds next year …
The sweet peas are investigating their support …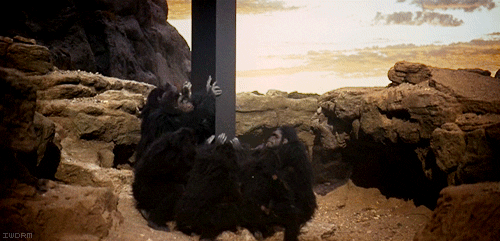 … and the alyssum and her purple brethren, last year's roaring success in the herb garden, are all set for a repeat performance:
Hector is jealously guarding the catmint patch from his best frenemy, Gironimo Stilton from four doors down.
It is a hotly contested sunbathing spot.
(Give him no sympathy: He turfed Comma off it a few moments before I took this.)
Things are starting to get exciting on the windowsill, too:
And flowers at last for my little triptych:
Forget-you-not.
At the farmers market on Sunday, there were armfuls of narcissi:
Who could resist? Not me.
I got a little carried away decorating an Easter table.
"How long do you think it'll take Ted to notice?"
"Well, he's been looking right at us for twenty minutes, but it hasn't clicked yet …"
Happy Easter, everyone.