The poor celeriac.
He's an ugly beast.
This soup turns him into a beauty, though.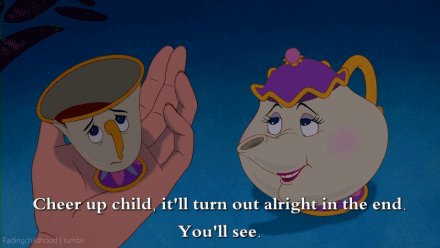 First, he'll need a jolly good trim.
Looking better already.
Then, things get a little dicey …
And we're ready to go. For the soup, I riffed off this recipe, based on what there was in the kitchen and removing some of the bacon, butter and cream, because really, James. And so:
Celeriac soup
Serves 2 as a generous supper with a bowl left over for tomorrow's lunch, or 4 as a starter.
Prep and cooking time: About 45 minutes
Ingredients:
1 celeriac, peeled and diced into cubes about 2cm square
1 medium onion, chopped
1 stick of celery, chopped
2 cloves of garlic, crushed
1 tsp thyme leaves (or chopped parsley)
Olive oil
1 litre chicken stock
3 dessert spoons of creme fraiche
White pepper (and salt if your stock is unsalted)
For the garnish:
Half a teaspoon of chopped thyme or parsley
2-3 rashers of bacon, chopped (optional – replace with croutons for a veggie option)
Method:
Put a large pan on medium heat. Add a couple of tablespoons of olive oil. When the oil starts to shimmer, add the onion and fry, stirring, until it's translucent and starting to soften.
Add the celery, teaspoon of thyme leaves and the crushed garlic. Keep stirring. When the vegetables start to soften, add the diced celeriac. Give it a good stir, then add half the chicken stock – this should be just enough to cover the vegetables. Stir again, bring to the boil and simmer for 15 minutes until the celeriac is tender.
Remove the pan from the heat and blend the soup, either in a food processor or using a stick blender, until it's smooth.
Now fry the bacon for the garnish, until it's golden and crispy and has rendered its fat.
Return the soup to the pan and the heat, add the other half of the chicken stock (it was held back so there isn't too much liquid in the pan to fit in a regular blender) and the creme fraiche – a dessert spoonful for each person and one for the pot.
Mrs Potts would approve.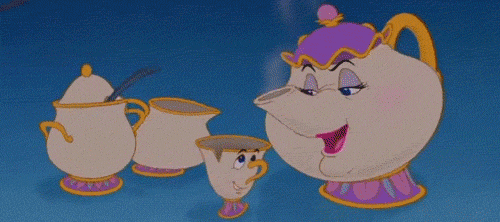 (Yay Mrs Potts. She's our favourite, right? Well, her and Lumière.)
Whisk the cream into the soup. When it's piping hot, pour into bowls, garnish with the bacon and chopped herbs, and serve.
Beautiful.